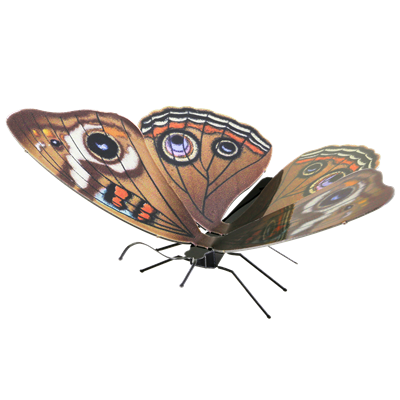 MMS124
The Buckeye is found in southern Manitoba, Ontario, Quebec, and Nova Scotia; all parts of the United States except the Northwest.. The bold pattern of eyespots and white bars on the upper wing surface is distinctive in much of its range. The eyespots likely serve to startle or distract predators, especially young birds.
MMS123
All Metal Earth butterflies are made of 1 sheet colored models and are rated as "Easy" builds. The upper (dorsal side) and undersides (ventral side) of the forewings and hindwings are decorated in color.

The Monarch Butterfly may be the most familiar North American butterfly, and is considered an iconic pollinator species. Its wings feature an easily recognizable tawny orange, the veins and margins are black, and there are two series of small white spots in the margins. The Monarch wingspan averages 8-10cm.