MMS065
Is a family of single-seat, single-engine, fifth generation multirole fighters that are designed to perform ground attack, reconnaissance, and air defense missions with stealth capability. The F-35 has three main models; the F-35A employs conventional takeoff and landing, the F-35B will be used for short take-off and vertical-landings, and the F-35C will be carrier-based. The F-35 models are intended to provide the bulk of tactical airpower for the U.S. Air Force, Marine Corps and Navy over the coming decades.

MMS062
Was a long-range, Mach 3.5+ strategic reconnaissance aircraft developed by Lockheed and its Skunk Works® division. It was the first aircraft to be constructed mainly of titanium. At full velocity the airplane surface heats up to over 260°C+ (500 °F). A total of 3,551 missions were flown and not one Blackbird was lost due to enemy military retaliation. Note: Skunk Works is the nickname for Lockheed's Advanced Development Programs. Skunk Works engineers have developed highly advanced, military aircraft, often in secret, since World War II.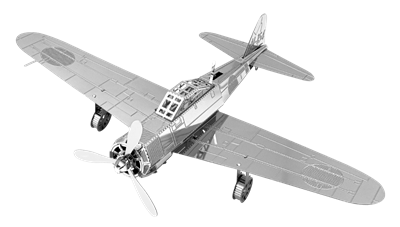 MMS028
The Mitsubishi Zero is a long-range fighter aircraft operated by the Imperial Japanese Navy Air Service. When first introduced early in World War II, the Zero was considered the most capable carrier-based fighter in the world, combining long range capabilities with excellent maneuverability.