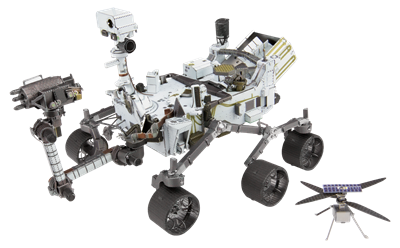 MMS465
Perseverance launched July 30, 2020, enroute to Jezero Crater, Mars. Perseverance features a plutonium power source and a variety of instruments to aid the rover in its mission to seek signs of previous life on Mars, as well as collect data to further aid future manned missions there.

Ingenuity, the 4 pound helicopter that was launched with Perseverance, features four specially made carbon-fiber blades, arranged into two rotors that spin in opposite directions at around 2,400 rpm – many times faster than a helicopter on Earth. It is a separate experiment from the rover and is intended to demonstrate technologies needed for flying in the Martian atmosphere.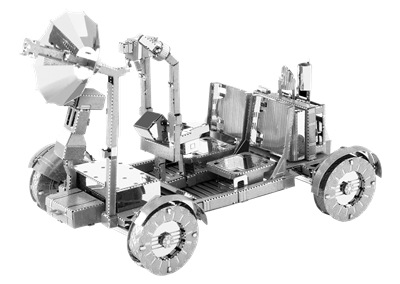 MMS094
Was affectionately known as the moon buggy. It was used on the moon in the last three missions of the American Apollo program (15, 16, 17) during 1971 and 1972. Powered by only two silver-oxide batteries, the Apollo 17 was able to drive for 35.74 km (22.21 miles) across the surface of the moon.