ICX142
TUSKEGEE AIRMEN
Were trained at the Tuskegee Army Air Field in Alabama. During World War II, they flew more than 15,000 individual sorties in Europe and North Africa where they gained recognition as The Red Tails for the uniquely painted red tails of their planes.

P-51D MustangTM "Duchess Arlene"
Was a red-tail P-51D flown by Lt. Robert Williams - a Tuskegee Airman – in 1945. He flew 50 combat missions from Italy with the 100th Fighter Squadron.
MMS180
Is an American long-range, single-seat fighter and fighter-bomber used during World War II and the Korean War. This P-51D model was flown by Lt. Bowers of the 4th Fighter Group, 334th Squadron. It was named "Sweet Arlene" and was credited with six enemy aircraft destroyed.
Instructions to assemble this model with a raised landing gear configuration can be found here:
https://www.metalearth.com/flyingp51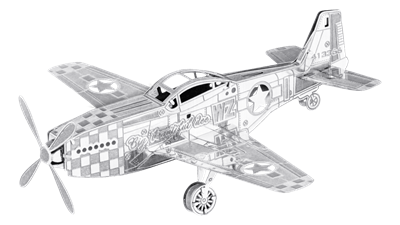 MMS003
The P-51 Mustang was a long-range World War II fighter aircraft that flew as a bomber escort over Germany. Powered with the British Rolls-Royce Merlin engine, it was unmatched by any other piston fighter aircraft of World War II.